How are you from the last time you read my blog?
If you are new, welcome to my blog!
◊This is a sponsored post◊
Summer is fast approaching, and no matter if you think your body is not bikini ready, you have got to love the body you are in.
In most instances, the reason YOU might not be that comfortable with your body is that you might not know how to compliment your body with pieces that will enhance your shape.
Don't forget to check the sidebar and footer of this website for awesome resources!
This post will speak on the 4 common body shapes that I will show examples of how to style your body shape and which bikinis are best to flatter your body.
These cute and chic bikinis are compliments of Dresslily they have your style no matter what shape you are in.
The four types of body shape that I will be talking about are Hourglass, Pear, Banana and Apple body shape. Which one are you?
If you do not know which one continue reading to see what I am talking about. But if you can't wait to shop these looks head on over to Dresslily they have every style you can think of for your bikini body for the summer.
If you are an Hourglass shape you are curvy with a tiny waist. For your bikini, you want to wear triangle cups two-piece top or solid pattern in one piece.
This Micro Leopard String will bring attention to your tiny waist, the tie at the sides are also perfect for your waist as well.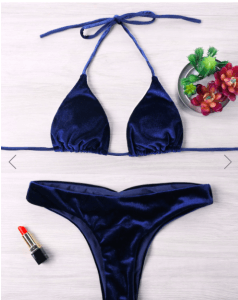 Another option is the high cut velvet bikini in a solid colour this will also be perfect to highlight your curves.
You have a pear shape if the widest part of your body is your hips. If you are not sure how to highlight your pear shape then wearing a one-piece suit with cut out, off the shoulder top and low rise bottom will be perfect for your body.
Try the Strapless Crochet Knit Lace-up bikini as crochet is in this summer if the yellow is a bit too much for you then the Crochet Knit String Low Waist Bikini will surely give you the confidence to turn heads.
You have a banana shape if you don't have curves, but your hips are the same size as your waist. To style your body shape you should be wearing one piece with mesh cut out, high waist bottoms and do try to aim for bright colours, floral and ruffles.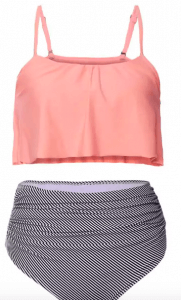 Like this Striped Ruffle High Waisted Bikini Set is what I recommend also stash the Sweet Ombre Design Halter Neck Bikini Set on your next weekend barbecue.
You have an apple shape if you have a slim lower body and have a little weight on your body. Wear bikini's that add a belt to your one piece, V neckline bikini or one piece.
You want to emphasize the lower part of your body, by wearing Moulded Halter Push Up Bikini Set if you want to add some colour you can't go wrong with your Ethnic Paisley Halter Neck Bikini Set
There you have it! You now know how to style your body by what bikini to wear, and remember no matter size or shape that you are in confidence is always key to pulling off any look.
Don't forget to check the sidebar and footer of this website for awesome resources!
◊This is a sponsored post◊
It was nice of you to stop by.
Until then, happy hiring, and best wishes with your business.
Image credit: Dresslily