How are you from the last time you read my blog?
If you are new, welcome to my blog!
◊This post contains affiliate links and I will be compensated if you make a purchase after clicking on my links.◊
Don't forget to check the sidebar and footer of this website for awesome resources!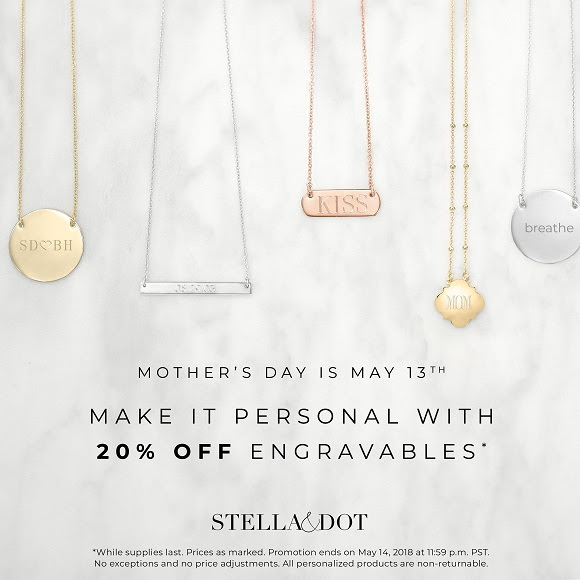 Mother's day is just around the corner and like YOU, you might be scrambling for the perfect treasure to gift your mom.
You know that she deserves the best but with so many sites, stores and deals, how can you stop the overwhelm.
Well stay tuned to see what perfect treasure I have found that can be customized base on your moms taste and liking.
I have been with Stella and Dot for the earlier part of this year and what I do love about this site, is the ability to customize jewelry and treasures with your signature style.
With mothers day just around the corner, Stella and Dot have a special offer that promises to wow YOU with their high-class jewelry that are affordable with your budget in mind that will not let you break the bank.
Stella & Dot is excited to announce their latest promotion with mom in mind (I am sure YOU won't feel bad about getting a custom piece yourself) which will allow you to save 20% off engravables at Stella & Dot
Stella & Dot's engravable necklaces and bracelets are the perfect gifts for mom, because who doesn't like custom pieces of jewelry with a special touch of how much you love mom.
I recommend the Signature Engravable Memento Locket this locket can be personalized with your monogram or a special date to make it unique to you and mom. This can be worn as a charm or a pendant with (or without) a photo inside.
Another of my favorite which I am torn between gifting myself and my mom as well is the Signature Engravable Clover Necklace Mom will love this especially if her initials are there or a simple date to mark a special occasion.
Now I know there are so many to choose from but at the end of the day all engravables are 20% Off at Stella & Dot and who doesn't like a deal as well as making mom know that she is special and unique in one gift.
Until then Happy Mothers day to you and hope you have a blessed and relaxed day see you soon over at Stella & Dot where I will be updating my cart as we speak.
It was nice of you to stop by.
Until then, happy hiring, and best wishes for your business.
Don't forget to check the sidebar and footer of this website for awesome resources!
Photo Credit: Stella and Dot