How are you from the last time you read my blog?
If you are new, welcome to my blog!
Some of the time when we are online we tend to focus on how to be successful immediately and try to do everything that others who appear to be successful are doing.
As you prepare to start your business, I wanted to share with you 10 things that you should avoid.
Don't forget to check the sidebar and footer of this website for awesome resources!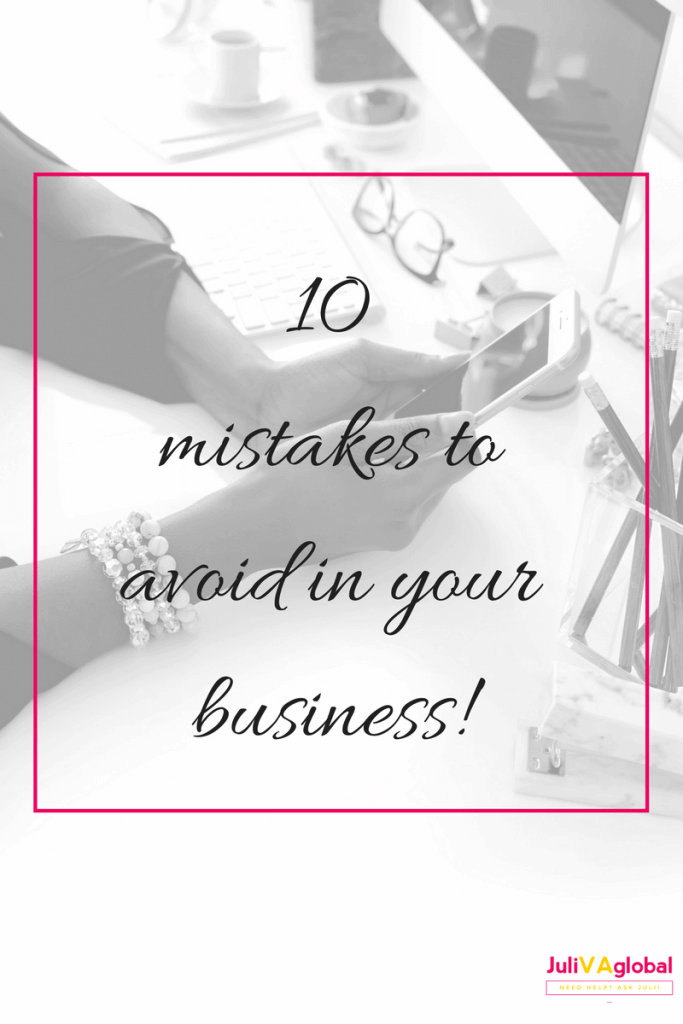 Let's do this!
♥ Do you! Find out what works for you and your business, when you have decided to do so you can focus on asking for additional help, whether it means to hire a mindset coach or a business coach, it's up to you. Even if you don't hire a coach, don't focus on asking everyone for advice. Choose one person who can assist you; if this means that aligning yourself with a mentor who has gone down that path before, but PLEASE do not ask every and anyone for advice.
♥ Do not sign up for every opt-in that you see out there. This information might be vital to your business, but please remember that timing plays a vital part, you will soon see that your email inbox will become overwhelming.
♥ Do not join groups/communities that will not be beneficial to your business or you. This might be nice at times to join groups that you want to support, (Join my Free Facebook group, where the support is constant from other ladies by industries) but if you are going to do so add favorites to the ones that you are benefitting from and turn off the notifications from those that you do not want to be a part of at this time, or you may even hit the delete button.
♥ When focusing on your business, create a list of those person's who might be a good collaborator for you. For example, you need to hire out for additional help ASAP, so you might need a Copywriter or even a Social Media Manager. It's always best to have these individual's information in one place and you may even use this resource to help someone else who might need the services of such individuals. So do not wait until you need the services of these individuals, search for them from day one when you are planning to get your business out there and have your resource list in hand.
♥ When sharing and using other person's content, do not randomly share this information if your clients and business will not benefit from it. Let's say you shared something that is non-fashion related on a Tuesday, this could be your day when you give tips to your clients and this may confuse your followers; so avoid randomly sharing things unless it's within your theme day.
♥ Avoid using images that are on Google. Even though most might say they are free, try being a part of subscriptions sites that are free or paid. I have a guide HERE on some of my fave sites that I use pictures from. I also subscribe to IvoryMix, her pictures are awesome!
♥ When setting up your business, avoid accepting payments without having your policy, contract, documents looked over by a lawyer and make sure that when you do so that your clients understand and accept your terms before signing each.
♥ Avoid using platforms that are not reputable for your business. For example, if you are hosting your site on a free platform that does not allow SEO, Google will not know much about you unless through other mediums such as your social pages. Invest in a good platform such as WordPress, also make sure that you do your due diligence on hosting platforms, as well as people you might hire to create and maintain your sites.
♥ Avoid trying to do it all. Find the time to step back when things go wrong, and if they do, nothing is wrong to speak with someone to give you objective advice. Sometimes we might feel overwhelmed and pressured to do things a certain way or even like others but just don't.
♥ Don't plan and yes, you will fail. Don't do things on the spur of the moment; this is a business. If it means that you will have to track your success and your failures do so, either weekly, monthly, or every quarterly period, do it with the intention of knowing how to grow from your mistakes.
It was nice of you to stop by.
Until then, happy hiring, and best wishes with your business.
Don't forget to check the sidebar and footer of this website for awesome resources!
Photo Credit: Haute Stock