How are you from the last time you read my blog?
If you are new, welcome to my blog!
◊This post contains affiliate links and I will be compensated if you make a purchase after clicking on my links.◊
So I am a Virtual Assistant and before I was working on a freelancing platform. I was planning on the side to get my business out there and create my website.
How are you managing your 24 hours?
I was doing everything. I was scheduling posts for my social media pages, I was showing up in groups for my ideal clients, and I was even writing my blogs, in addition to also doing clients' work on a freelancing platform.
OMG, I was heading for a burnout and as a trained Guidance Counsellor who should know better, I knew I should not be doing this because this was going to impact the growth of my business. This was heading towards impacting my clients negatively and them not getting the best services from me.
So I slowed down and with the experience, I learned from some of my clients who were leading busy lives and needed to schedule their time more wisely, I literally stopped and follow suit.
We are each given 24 hours in a day, and how we use it determines if we will be wise with our time or let things we spend most of our time with dictate to us.
Why you MUST invest in a planner or project based platform.
Don't forget to check the sidebar and footer of this website for awesome resources!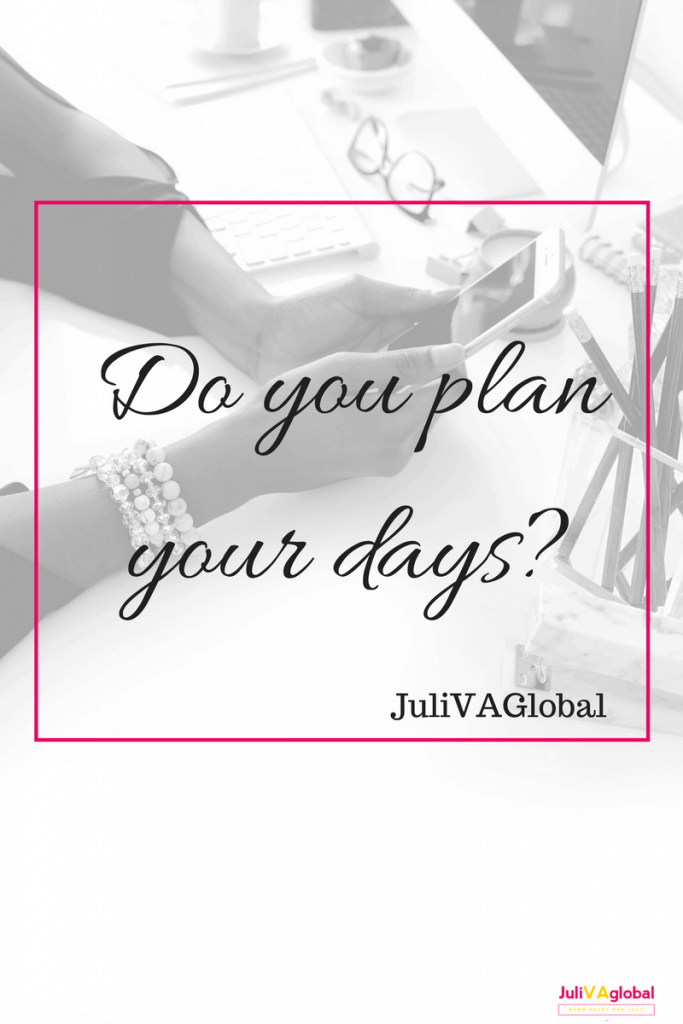 I strongly recommend that if we are online business owners, that you invest in a cloud planner or project management based software to manage your tasks. No disrespect to those book planners. My favorite is Asana and because it saves tasks automatically.
I also like using Passion planner for my planning as well; it can be used from your computer or be printed if you so desire. I also think if you like to use a physical planner to schedule your days, this comes in handy too. I will talk some more on what I mean by this.
I mentioned earlier that I was trying to do everything myself; this does not eliminate hiring out help, but this blog also helps with managing your time as well on a daily basis.
I started out using sticky notes before I was even aware of an online planner. Each day I would dedicate to doing a single task; it does not have to be the same time, but I will do mine on various times depending on what the day is like. You can time yourself if you don't mind mentally doing it on your own.
I will show you how to theme your days for the week.
Each day, I schedule a specific task. So let's say for Monday, I will dedicate 2-4 hours on scheduling my content. This means that I will use a scheduling platform for the day to schedule my tasks for the week, or for the month. You can time yourself using a platform such as Toggl or using your phone or a reminder that you have on your computer.
For Tuesday, I focus on my business. This can entail hiring out for additional help or keeping track of what needs to be done, such as keeping track of my VA, doing my website or it depends on what you need to be done, which will be a focus for your business.
For Wednesday, remember I said in earlier posts that I signed up for every webinar that I could think of; luckily for me, most of them fell on a Wednesday or Thursday, or sometimes on a Saturday. If I had no webinar on those days, I did courses that I thought would benefit my personal growth and my business. I did courses on Udemy and Alison and when I had signed up for these individuals' webinars, some also offered courses that I did take.
For Friday, I focused on creating my content. This is the time I did research on what my ideal clients were talking about and I saved them in a spreadsheet for future blog posts. I even used Canva for creating images that would be great to go along with my content.
On Saturday, I had another day for a task. Yes, I know this was funny. This was the day that I used to insert new stuff into my scheduling platform. This was the easy part because this did not take much effort on focusing on my tasks for each day. You might not need this day because as each time your progress is achieved, you can tick it off or even add in what needs to be done. You don't have to wait for Saturday to do this.
I rest on Sunday. You do not necessarily have to set your days specific to what I choose; you can even start on Sunday and choose the days that suit you best to manage your time.
But, remember, as a business owner, you have the same 24 hours as everyone else. Use your time wisely and don't do everything yourself; there is a difference between being self-employed when you do everything, and being a business owner.
It was nice of you to stop by.
Until then, happy hiring, and best wishes with your business.
Don't forget to check the sidebar and footer of this website for awesome resources!
Photo Credit: Haute Stock